TEACHERS!
Encourage Kids to Read with
A Virtual Classroom Visit
and
Discussion Topics, Quizzes, and Activities from the
Summer of L.U.C.K. Trilogy
by
Middle Grade Author Laura Segal Stegman
Summer of L.U.C.K. and sequel Ready or Not
are available in hardcover (Summer of L.U.C.K. only),
paperback, and e-book.
Order an autographed copy (personalized too!)
from Children's Book World!
Also available at
IndieBound, Bookshop, Amazon, Barnes & Noble, Google Play,
and wherever else books are sold.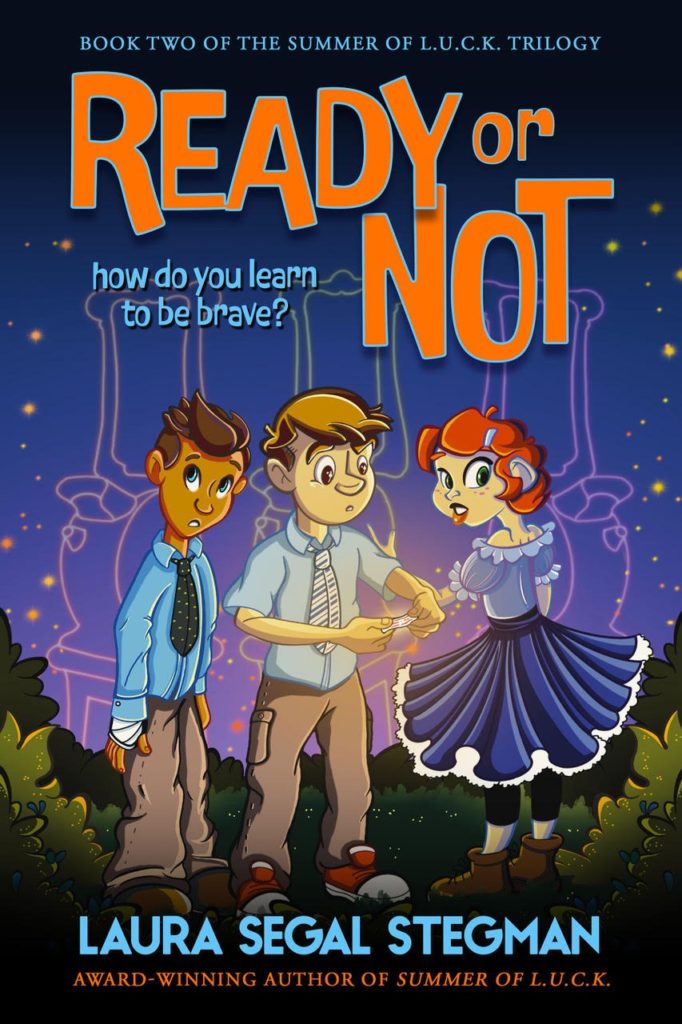 "Summer of L.U.C.K. is a tale that incorporates not only topics that young pre-teens find so exciting – magic, carnivals, friendship, and fun – but also manages to thread the exciting plotline with pearls of wisdom about life, bullying, self-worth, and self-esteem, and that's what lifts this book above others in its genre."

— Readers' Favorite
ABOUT SUMMER OF L.U.C.K.
Three struggling kids stumble upon a magical carnival that's about to change their world.
For Ages: 7-13
Topics: Self-acceptance, communication, friendship, perseverance, adventure, summer camp
Publisher: Young Dragons Press
ISBN: coming soon
Available wherever books are sold
VIRTUAL CLASSROOM VISITS
I'd love to meet your students for a one-hour virtual visit that includes:
a brief talk about how my journey as a writer taught me self-acceptance and perseverance;
a look at Summer of L.U.C.K., my middle grade debut novel about three kids finding their way to self-acceptance with the help of a ghost who haunts a magical carnival;
a read-aloud from Summer of L.U.C.K.;
and a spotlight on the issues faced by Summer of L.U.C.K. trilogy characters (see Discussion Topics below), including a Q&A with students.
FREE bookmarks and autographed bookplates are provided for every book purchased.
My virtual visits – VIA ZOOM OR SKYPE OR OTHER PLATFORM – are FEE FREE for schools whose students have read one or more of my books or classes that purchase a minimum number of copies of Summer of L.U.C.K.
For virtual visits without purchase, please ask about my affordable fee!
In-person visits are an option for certain areas in Los Angeles.
DISCUSSION TOPICS
Summer of L.U.C.K. is a perfect choice for a classroom read-aloud, class/school text, literature or book club, summer reading list, or independent read. In Summer of L.U.C.K. and its two sequels, Ready or Not and The Chambered Nautilus (both coming soon), the characters face these issues:
Developing self-acceptance
Learning to persevere
Building self-esteem
Letting go of perfection
Growing friendships
Discovering compassion
Facing fears
Gaining courage to deal with a bully
Speaking out
Being kind
Finding one's voice
The importance of honesty
Believing in one's self
QUIZZES
Although the Summer of L.U.C.K. trilogy is a fantasy series, readers will find answers to these real-world questions in the three books.
Summer of L.U.C.K.
Name the musical instrument that is played on a carousel.
What is cotton candy's principal ingredient?
You can tell one horse from another by the markings above its…
One definition of intrepid is…
Morocco is located on which continent?
Although character Naz is learning English, he is fluent in which two languages among those that are spoken in Morocco?
What is the English translation of the French word désolé?
Two related 20th Century United States Presidents had the same last name. What is it?
Name the traditional robe worn by Morocco's king on special occasions.
What color light can't lightning bugs detect?
Ready or Not (coming soon)
Last name of the 1960s Los Angeles Dodgers pitcher that character Justin's friend Sandy is named for.
Who should you talk to when a kid bullies or harasses you or another kid?
What color was the Space Shuttle's external tank?
The word "ambulance" is printed backwards on the front of an emergency vehicle so automobile drivers can read it correctly in their…
In what state is Dutchess County, character Leroy Usher's birthplace, located?
What language is spoken in the Canadian province of Quebec?
Name the early 20th century hand-cranked movie device that works like a flip book.
What famous school of music did Mr. Usher attend?
Actor/director Charlie Chaplin is best known for these types of motion pictures.
What 20th Century office device does Mr. Usher use to communicate with Justin?
The Chambered Nautilus (coming soon)
What devices do characters Darby, Naz, and Justin plan to use to communicate during their third summer at camp?
Darby and her pal Mei-ling use Woodward and Bernstein as nicknames; what kind of work do the real Woodward and Bernstein do?
The inventor of cotton candy also worked in the medical field – what kind of doctor was he?
The world's largest carousel is in Wisconsin, and it has more than 250 animals on it. How many of them are horses?
Justin is part of a program at camp known as CIT. What does that stand for?
What is the last name of the 19th Century American who wrote a poem titled "The Chambered Nautilus." HINT: it's the same last name as that of a famous fictional British detective.
Chambered nautilus sea creatures have been around since before what animals?
What are today's chambered nautiluses threatened with?
In which ocean are chambered nautiluses found?
Reporter Lois Lane is a character in which superhero stories?
ACTIVITIES
ACTIVITY #1:
Draw Summer of L.U.C.K.'s Main Characters the Way they Look to You
Leroy Usher, Carnival King
In Summer of L.U.C.K., Leroy Usher is described as having twinkling eyes, with a showman's top hat perched on his wavy black hair. His cropped red jacket sports big gold buttons, and his ivory pants are tucked into tall black boots. His age is never given, but it is suggested he might be in his 40s.
Darby McAllister
Darby, who is eleven years old in Summer of L.U.C.K., has curly brown hair.
Justin Pennington, who is twelve years old in Summer of L.U.C.K., has sandy-brown hair and is described as having a stocky build.
Naz Nezri
Naz, who is ten years old in Summer of L.U.C.K., has an olive complexion, black hair, and blue eyes.
ACTIVITY #2:
Write three or four-paragraphs about which Summer of L.U.C.K. trilogy character you relate to the most and why.
ACTIVITY #3:
In Summer of L.U.C.K., when Darby gets nervous or anxious, she learns to relax by picturing herself as a flower blossoming under the sun's warmth. If you have a way that helps you relax when you're nervous or anxious, what is it? If you don't, can you imagine or think of something that might help you face your fears?
ACTIVITY #4:
Darby, Justin, and Naz each find ways to accomplish their goals, even when they face challenges that seem difficult to overcome. Describe a time you've persevered in a challenging situation.
ACTIVITY #5:
When stuttering Darby discovers that her mom has hidden her own struggles with stuttering, Darby at first is angry. Then she begins to understand her mom in a whole new way. Can you describe a time in your life when you were able to turn your anger into compassion?
ACTIVITY #6:
Which real-life summer camp activities described in the Summer of L.U.C.K. trilogy books have you experienced (whether or not at summer camp)? What did you like or not like about it or them? Which of the activities haven't you experienced but would like to try, and why?
(EXAMPLES: hiking, archery, mural-making, arts & crafts, softball, canoeing, scavenger hunts, horseback riding, swimming, cooking, sing-alongs, playing board games, talent show, soccer/fútbol, square dancing, picnics, etc.)